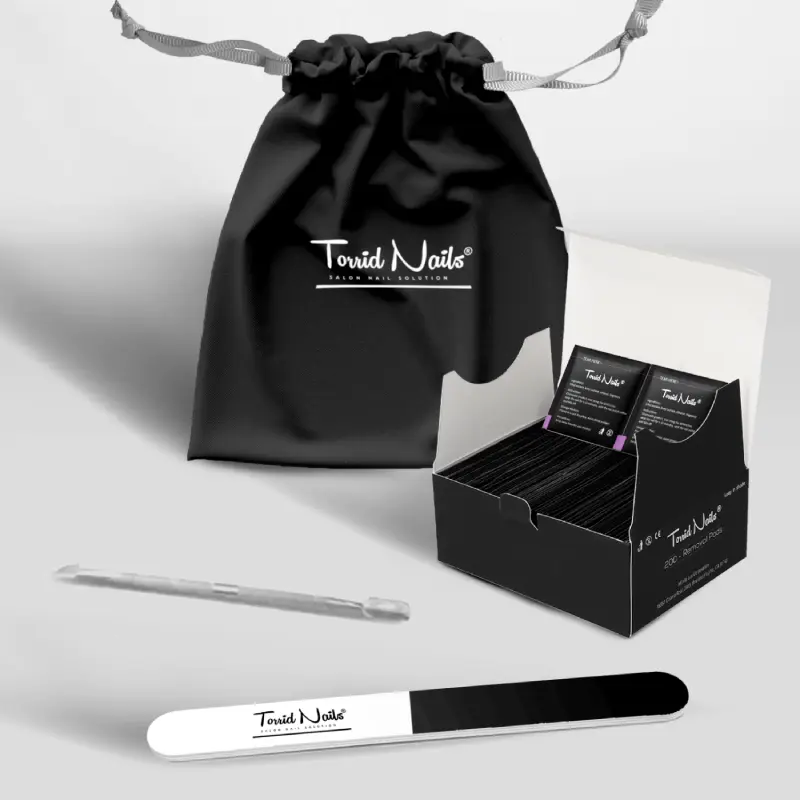 Removal Kit
Change color when you want
Does not damage the natural nail
Removal in 15 minutes
Open the disposable sachet where indicated.
Insert the finger into the wipe.
Wait 15-20 minutes to achieve complete removal of the nail polish.
Removal Pads: 50 Single-Dose Wipes already soaked to easily remove color from hands and feet.
3-in-1 File: Three functions in one file. This file comes with a 180 grit perfect for removing the top layer of Top Coat before proceeding with polish removal, a 600 grit useful for smoothing the surface of the nail after applying the first layer of Activator and removing small imperfections, and finally a 4000 grit essential for polishing the natural nail.
Torrid Bag: 1 Torrid Nails® signature cotton pouch to hold everything you need without making a mess.
Manicure Pusher: 1 Manicure pusher made of stainless steel, manually sharpened with non-slip handle for excellent grip.
*Store in a cool, dry place. Keep out of reach of children, away from fire or heat sources. Avoid direct contact with sunlight.
Removing manicure Dip Powder is super easy with li Removal Kit from Torrid Nails. It only takes 15 minutes.

Lightly file the nails, apply the pads and wait 15 minutes and Voila the job is done.